The event took place on Sunday 30th September 2012 at the Thirtover Guide Camp site. All groups in District attended the event as well as Explorers from across the district. Three archery ranges were used throughout the day with 292 young people from the 7 Scout Groups attending for 1.5 hour time slots throughout the day. Young people had a chance to practice prior to taking part in a competitive round which produced the following results:-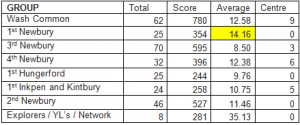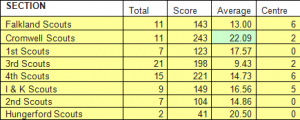 Now in its third year the event has grown in popularity and this did produce a problem on the day resulting in some young people having less time to practice prior to their competitive round, clearly an issue to be taken on board by the organisers for next year.
Next year's event will once again be at Thirtover and will be held on Sunday 22nd September.
Particular thanks go this year to Paul and Rachel Fisher for running the administration, booking and scoring process, to Diana Wheatley and Alison Taylor for manning the refreshments throughout the day, to Mark Taylor for producing the certificates for the Archers and to the Archery Instructors Martin Turner, Marcus Brind, Anita Lemoine-Wright and James Fisher and to the two Range Assistants Sarah New and John Baston.
Next year I hope that we will run a training session for additional adults to be able to assist the Archery Instructors on the ranges and perhaps we may have new Archery Instructors able to help in running the ranges throughout the day.
Well done to all the young people who took part in the event and see you all there next year.
Eugene Futcher
GSL 1st Wash Common Scout Group