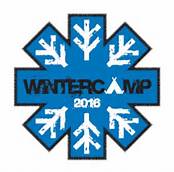 A small group of Explorers from Kennet were amongst the thousands who braved the elements over the 8th-10th January to have a MUDDY time, at Wintercamp 2016.
Wintercamp is an activity camp running right in the middle of winter, and you can certainly expect the extremes of British weather. This year we had torrential rain, and bright sunshine. Combine that with the best activities going and we've got ourselves a very exhilarating weekend.
At Gilwell Park they were able to try a number of activities including the usual favourites: shooting and archery, crafts, white water rafting off-site at Lee Valley, water slide, prusiking, radio orienteering, wide games, quad bikes, go-karts and a disco as well as 2 new activities for 2016, curling and MAD DROP – both of which went down a treat. There was many others too. Once it got dark the fun didn't stop either, with a disco, cinema and some campfires of course.